Whatever the internet was originally made for, cats have made it their own.  Which is why I thought it would be perfect to combine cats with the Try Not to Laugh challenge.  Maybe you have heard of it?  It's a trend sweeping Youtube where people compile the funniest clips that they can find, and they challenge the viewer to just try and watch it without laughing!  
I've enjoyed failing to keep a straight face during plenty of Try Not to Laugh videos, so I wanted to give it a go on my blog. 
Here's how it works: you start with 10 points, and you lose one point each time you laugh.  I've collected some of the best cat fails on the Internet in gifs, memes, and short videos.  Every single one of them made me laugh out loud, so I've already failed the challenge, but there's still hope for you.  You can succeed where I have failed!  Just go to a really, really dark place, and then start!  
1. 
Cats are elegant, agile, and… derpy.  
2. 
My cat Autumn used to scale the Christmas tree every year so she could hunt down and murder all the bird ornaments.
She chipped one and ripped the feathers off another!
Eventually, I wised up and removed them.  When that still wasn't enough, I ran a model train around the base of the tree to scare her away.  That's worked — so far, at least…
3. 
Diet fail. 
4. 
For some reason, cats seem to like tight spaces.  Maybe they find it cozy?  
5. 
6. 
A Note to Sensitive Readers: Don't worry, as far as I can tell, all of the cats in these clips ended up perfectly fine.  
7.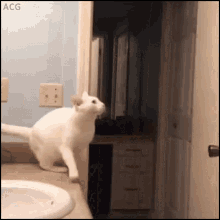 8. 
This one is my favorite!  
9. 
Oh, how the turns have tabled!  
10. 
So how did you do?  Share your score in the comments! 
Like I already mentioned, I lost it on every single one, so you probably beat me.  
If you got a score of 0-3, then you must be a cheerful person who likes to laugh, the life of the party.  
If you got 4-7, then congratulations!  You are a normal human who laughs at some things, but not at others.  
If you kept your total up around 8-10, then you are a stone-faced god!  (Either that, or my uncle Bob.)  So you are obviously worthy of another, more arduous challenge:   
https://fuzzyfanaticblog.wordpress.com/2018/04/08/20-cat-memes-to-make-you-laugh/
This is one of my most popular posts, and I think it will make even a stone-faced god laugh.  Enjoy!  
And until next week, always remember: stay fuzzy, my friends!